LaTeX Formula Editor #
Using LaTeX to edit formulas works great, but the downside is that there is a bit of a threshold to use, and you can't remember all kinds of symbols. In addition, it is not possible to edit formulas in a WYSIWYG way, which affects editing efficiency. That's why some LaTeX formula editors have appeared, and TeXPage also implements a LaTeX online formula editor with a friendly experience. The main features are as follows:
1. Support for WYSIWYG formula editing #
Edit formulas in the red frame and the formulas will be displayed in real time.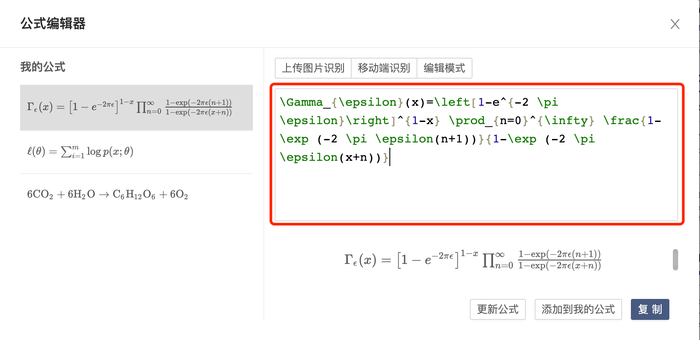 2. Formula List, which allows you to save frequently used formulas #
After editing or intelligent recognition of the formula, you can add it to My Formulas, and if you need to update the formula, click Update Formula.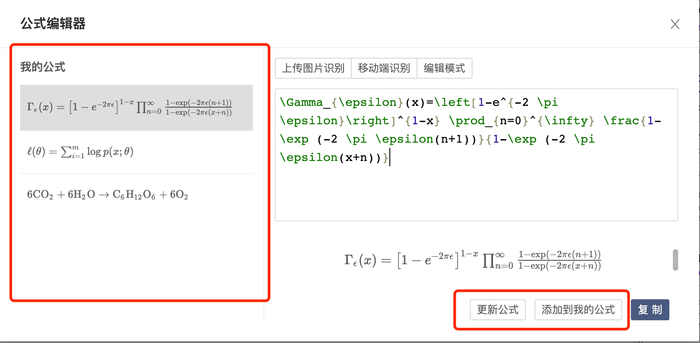 3. Support uploading formula images and intelligently recognizing them as LaTeX codes #
Using AI technology to intelligently recognize formulas is a great advantage of the LaTeX editor. After uploading an image, you can get the LaTeX formula code of your choice with just a click of a button.
Upload the formula image.

Intelligent recognition of LaTeX formula codes.